Warehousing Puzzle: Which Baby Needs Changing?
Do what we've been doing as long as we've been doing it, and sometimes you can feel like you've seen it all. Fact is, every client and job is different. Can you tell which of the below is unique?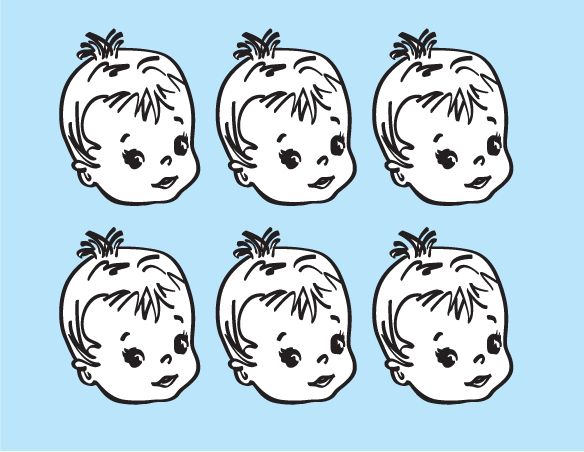 See the Answer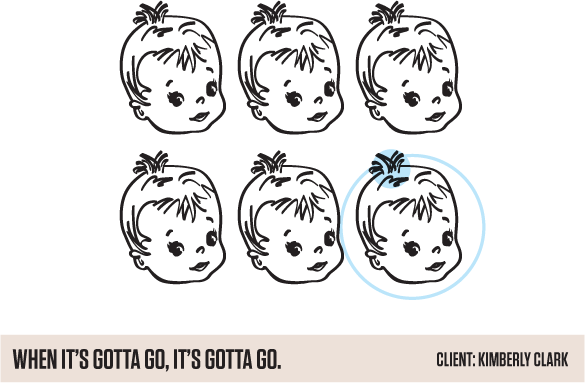 With global sales in the billions, Kimberly Clark's demand spikes are just a fact of life. So when KC calls us and asks if they can send in 200-300 truckloads tomorrow, we're never surprised. What we are is immediately responsive, either clearing or finding the space every time we've been asked. Because, the reality of the situation is, whether it's tissue paper, towels, or diapers, when stuff's gotta go, it's gotta go.
Warehousing Puzzle: Space Out of Nowhere
One of our favorite pastimes is handling a space crisis quick, fast, in a hurry. See if you can create some extra space above by moving three lines to make 7 boxes out of the 5.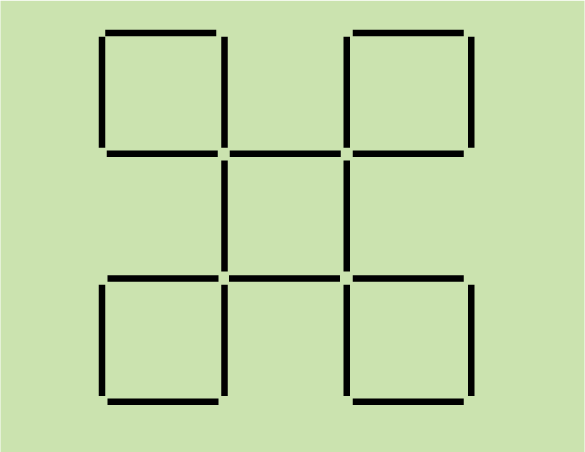 See the Answer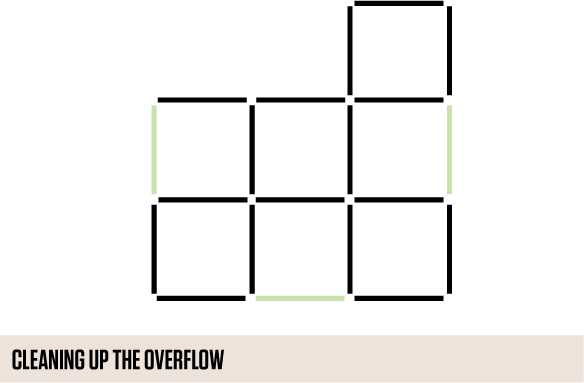 A major manufacturer of household cleaners was consolidating one of its facilities near Augusta. Unfortunately, their warehouse was not ready for the additional inventory, and they were beginning to have problems fulfilling orders due to space, labor, and trucking shortages. Within two hours of a phone call, we had our trucks at the manufacturer's facility and, for the next four weeks, handled the warehouse over-flow until the consolidated facility was up and running.
Freight Services Puzzle: In the Eye of The Storm
One thing we've learned from being in this business forever is that the devil fools with the best laid plans. Case in point – the weather. See if you can deal with it and bring this shipment home. Don't draw on your screen.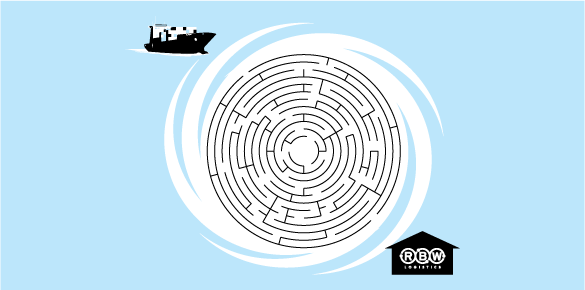 See the Answer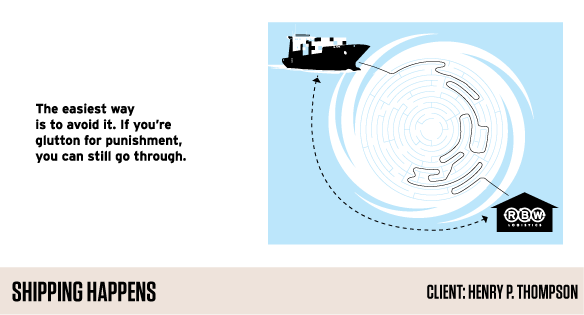 When product comes from overseas, the situation can be a lot different from the time it leaves until the time it arrives. One really nasty example of this was Hurricane Katrina. When Henry P. Thompson's tea shipment left, all was clear. However, as it approached its destination in NOLA, it was obvious that was no longer a viable port. Within days, RBW worked with HPT to reroute to our facilities, saving our client from dealing with the storm by avoiding it altogether.
Puzzle #2: One Smart Move
With freight services, it's all about making the most out of your moves. See if you can, moving only 1 bucket, make the pattern above alternate between full and empty buckets.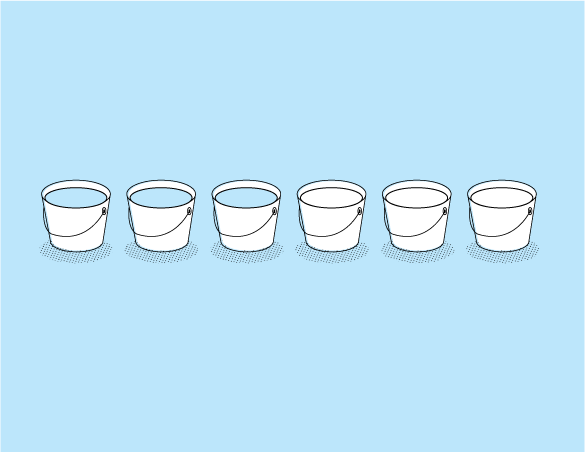 See the Answer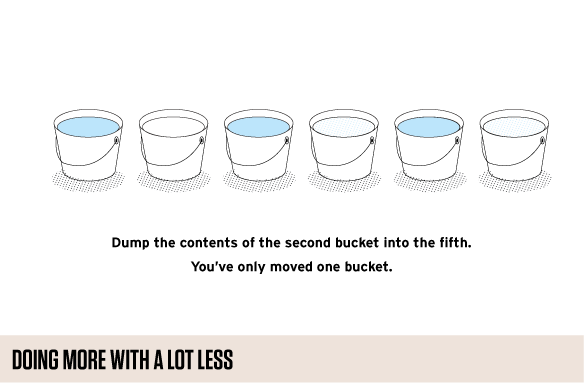 Going international can not only take you out of country, it can also take you out of your area of expertise. One of our customers recently experienced a big boom, which entailed exporting 90 containers per month around the world. Unfamiliar with navigating the export waters, they weren't aware that getting over-weight permits and cubing out their containers was an option. RBW worked with the customer and the Georgia Port Authority to reduce the load, saving the happy, and more efficient, customer a bundle.
Freight Services Puzzle: Let's Turn This Thing Around
In the logistics business, sometimes you gotta turn things around in one heck of a hurry. See if you can, moving only 3 batteries, get this shipment pointed in the opposite direction.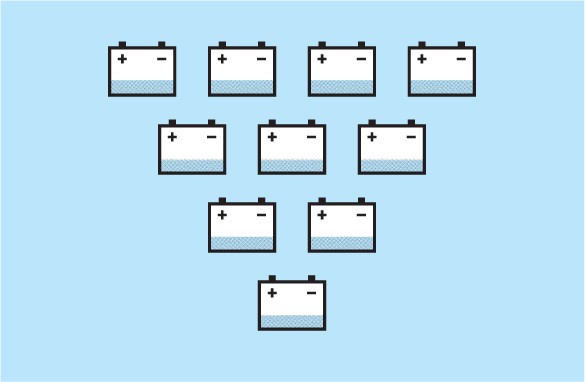 See the Answer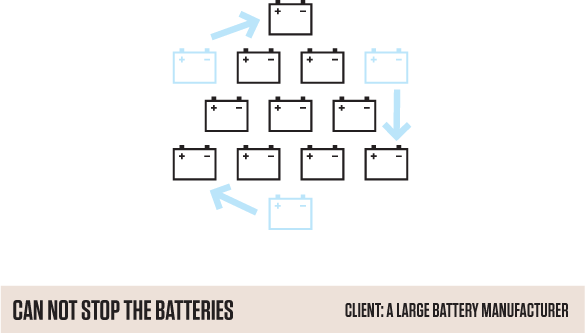 After a battery manufacturer had scheduled a load of their product to be delivered to Augusta, GA, they suddenly realized they needed to coordinate delivery with pick-up at a different location. Without missing a beat (or the deadline), RBW was able to make the change and report back pick-up and delivery times to the customer. It's a perfect example of how empowered staff and strong client relationships can make the difference in a seemingly impossible turnaround.
Value Added Services Puzzle: Breaking Down The Boxes
RBW handles lots of bulk everything, as you can imagine. Often we take 1 big thing and break it down into lots of little ones for our partners. See if you can make 3 equal boxes moving only 3 lines.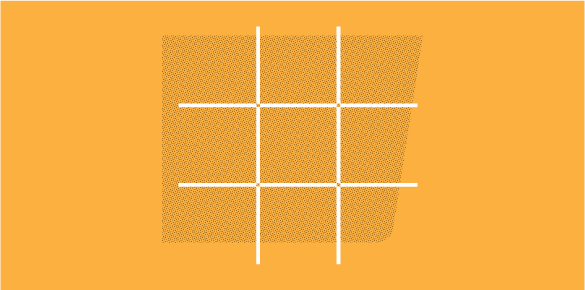 See the Answer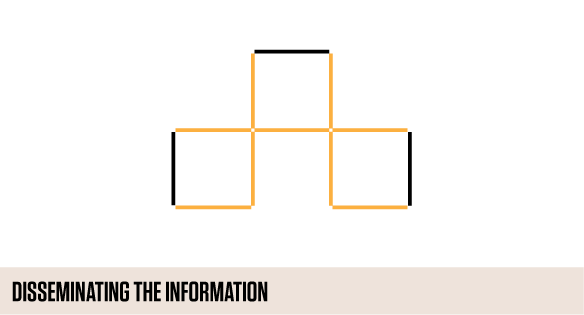 Promotional mailers and catalogs require a tremendous amount of supply chain coordination. Didn't know if you were aware of that, but they do. Retailers who practice mass mailing often "staff up" to handle their spikes in business immediately after their materials hit customers. Therefore, timing in these instances, is everything. RBW handles storage of catalogs and outbound logistics to ensure that our customers hit their customers at exactly the right time.
Value-Added Services Puzzle: A Logistical Impossibility?
We're in our fourth generation of family ownership at RBW Logistics, so we've had to move a lot of stuff. See if you can move only two bars to make another glass which the tea bag is outside of.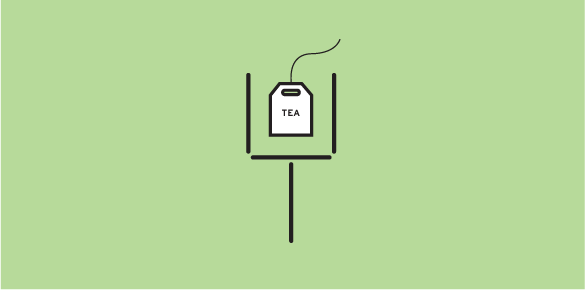 See the Answer

Just like the solution to this puzzle, sometimes pushing your business forward simply requires making a few smart moves. While we were warehousing tea for Henry P. Thomson, they began to expand their product lines to offer more exotic mixes of tea. Rather than ship the tea to a secondary location, Henry P. Thomson built a custom tea-blending machine at our facility and outsources blending duties to us. We fondly refer to the machine as "Mr. Tea." The result: increased profitability for HPT and 40,000 lbs. of tea blending a day for RBW.
Supplier-Pull Management TM Puzzle: Keep Everything Balanced
Logistics demands precise measurement of receipts, deliveries, and inventory. Your challenge: determine how many clubs, diamonds, or spades it takes to bring balance to the last scale.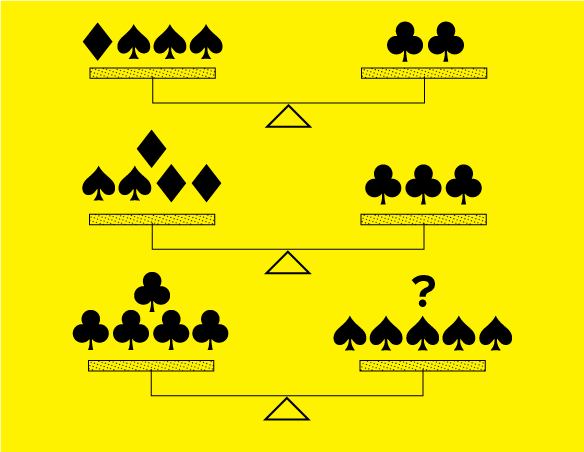 See the Answer

That's big, fancy industry jargon for making sure our customers have what they need when they need it. That, and having the field-vision to see the supply problems coming. At RBW, we began handling this responsibility for Textron Specialized Vehicles to ensure their golf cart production lines never go down, saving them astronomical cost. Since then, this concept has been embraced by other RBW customers who let us be the strong link in their supply chain.
Quality Control Puzzle: Rounding Up & Recycling
At RBW Logistics, we're all about efficiency. That, and the creative problem solving akin to what you'll need here. See if you can connect all the trees by using only four straight lines.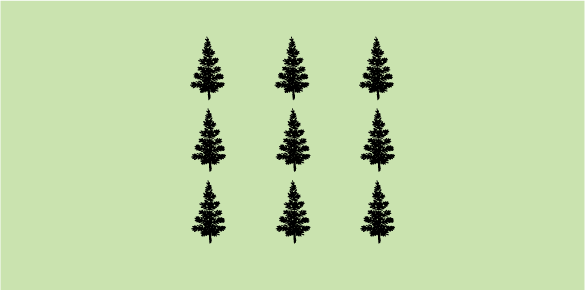 See the Answer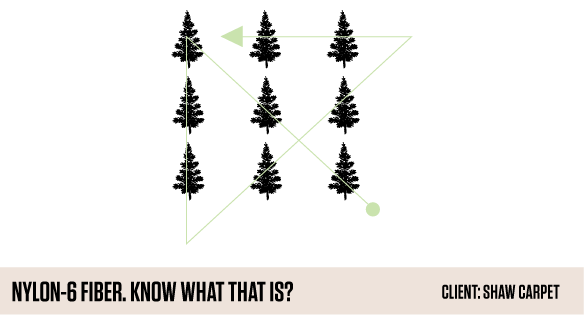 Nylon-6 fiber, know what that is? We didn't either, until Shaw Carpet told us about their logistical problems in handling its recycling. Nylon-6 fiber, when recycled, is indistinguishable from virgin N-6 product, from which most carpets are made. Shaw operates the only Evergreen Nylon Recycling Center in the world. RBW handles all inbound carpets for reuse, making sure fiber and moisture content are acceptable, and removing all debris and metal objects prior to sending the clean materials to Shaw.