We Like to Add Some Value
Because we consider our customers partners, we're always looking for ways to help them improve and expand their business possibilities. It's what sets us apart from our competition. Be it solving packaging problems or streamlining manufacturing, the goal is always making it easier to do more with less. Thinking outside the box, that what we do.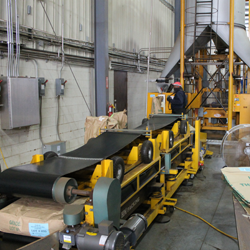 RBW's packaging division specializes in ensuring all those bags and boxes, whether it's a multi-pack for a wholesale club or setting up a center aisle display, are properly packed and palleted. Unlike the family physician, we also make house calls offering our services at your place or ours. We currently provide blending and packaging services for a tea manufacturer at one of our facilities, this operation is an example of our ability to address unique logistic challenges. RBW Logistics' tea customer brokers 50% of the tea sold in the United States. Having the flexibility and innovative spirit is allowing our clients to become more efficient and profitable within their supply chain.
We're also experts in clean up. It's no secret that straightening up can be time consuming once the party, or packing is over. Our baling service preps for recycling and leaves your staff available for more important tasks. It's also an essential part of our green approach to logistics. We're committed to helping the environment. We recycle paper at our Records Management Center facility, in addition to re-purposing materials from our shipping pallets. We even resist the urge to pop bubble wrap, opting instead to recycling all our packing materials.

---
Quality Control Puzzle: Rounding Up & Recycling
At RBW Logistics, we're all about efficiency. That, and the creative problem solving akin to what you'll need here. See if you can connect all the trees by using only four straight lines.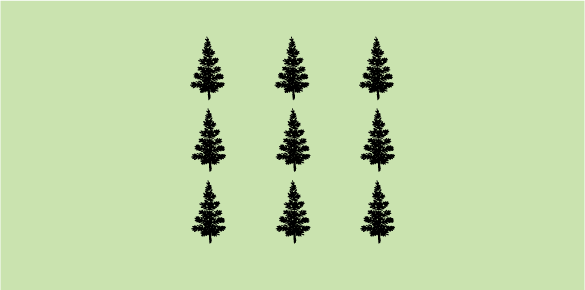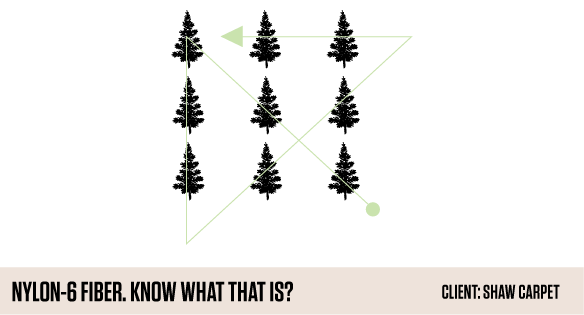 Nylon-6 fiber, know what that is? We didn't either, until Shaw Carpet told us about their logistical problems in handling its recycling. Nylon-6 fiber, when recycled, is indistinguishable from virgin N-6 product, from which most carpets are made. Shaw operates the only Evergreen Nylon Recycling Center in the world. RBW handles all inbound carpets for reuse, making sure fiber and moisture content are acceptable, and removing all debris and metal objects prior to sending the clean materials to Shaw.