Inbound Planning
Once a product has arrived at a port of call, it still needs to make the journey from the docks to it's final destination. This usually dictates a different mode of transportation, which could be done by hitting the railway, waterway or highway. Typically a tractor trailer is hitting the roads, and lining up a freight carrier for each stop along the way can be quite the headache. The good news is, it's usually more cost effective and efficient to have your 3PL provider set it up for you. Due to established relationships with numerous freight carriers, we typically can provide better rates and coordinate pick-ups as soon as your product hits the dock.
In addition, RBW Logistics has the technology and know-how to make "Point A to Point B" a little less stressful. Our warehouse management software not only manages your inbound and outbound orders, but also offers tracking, consolidation and inventory reporting as well. All in all, it will become one less thing for you to worry about and a couple extra dollars in your pocket. We can handle your transportation, after all, that's what we specialize in. From purchase order to delivery, let RBW Logistics become your one stop shop for inbound planning needs.
Learn more about how RBW Logistics can help with your inbound planning needs:


---
Case Study
It seemed like a nice, normal Friday afternoon. Everything was settling down from a hectic week. Then came the call. A manufacturer whom we had been working with on an off-site warehousing option needed a load shipped by 4:30. That's 4:30 that afternoon, as in hours from then. Their carrier couldn't handle it, so we did. Within an hour, RBW Logistics had the load booked and on the road for a lower rate than the manufacturer's normal carrier. How about that?
---
Freight Services Puzzle: Let's Turn This Thing Around
In the logistics business, sometimes you gotta turn things around in one heck of a hurry. See if you can, moving only 3 batteries, get this shipment pointed in the opposite direction.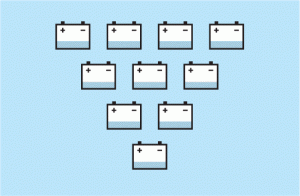 After a battery manufacturer had scheduled a load of their product to be delivered to Augusta, GA, they suddenly realized they needed to coordinate delivery with pick-up at a different location. Without missing a beat (or the deadline), RBW was able to make the change and report back pick-up and delivery times to the customer. It's a perfect example of how empowered staff and strong client relationships can make the difference in a seemingly impossible turnaround.